Sad news today in the world of music, as famed Saxophonist
Clarence "Big Man" Clemens
, most well know for his work as a founding member of the
E Street Band
and key influence on
Bruce Springsteen
, passed away today due to complications from a stroke.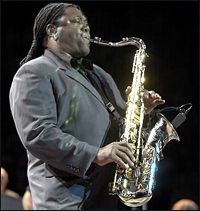 Clemons faced many health struggles at the closing of his life, multiple health scares, hip surgery, and a massive stroke a week prior to his passing.
However, he remained active in his craft in his late years, most notably in Lady Gaga's newest album Born This Way, collaborating with her on tracks "Hair", "Highway Unicorn (Road to Love)", and her most recent single, "Edge of Glory".
In honour of his passing, here's the Bruce Springsteen and the E Street Band classic "Born to Run" featuring Clemons on his Sax.
R.I.P Big Man