Two Door Cinema Club
, a young rock band from Ireland, has been receiving tremendous acclaim since breaking into the indie scene this past year.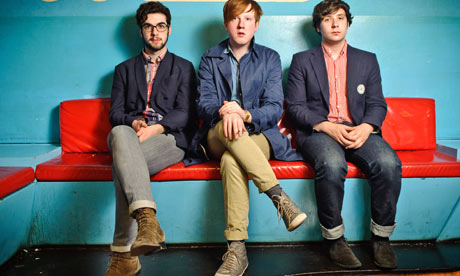 After forming in 2007 at their British-equivalence of high school,
Alex Trimble
(vocals, rhyme guitar),
Kevin Baird
(bass), and
Sam Halliday
(lead guitar), began writing their first album
Tourist History
(2010).
Since then, they have been touring in support of their debut (with a hired drummer), performing in such major festivals such as
Reading
(2010),
Leeds
(2010),
Coachella
(2011) and the upcoming
Lollapalooza
(2011).
Probably my favorite of their tunes.
So far, their biggest hit has been 'Something Good Can Work', grabbing plenty of time on the British charts, and scoring preciously rare airplay for indie rock worldwide. Hope you enjoy:
What do you think of the band?
What's your opinion on the state of rock?
Any good bands you'd suggest?
Let me know!